"The Movie Medley" is a medley performed by Straight No Chaser; featuring solos by Walter Chase, Steve Morgan, Tyler Trepp, Don Nottingham, Seggie Isho, and Charlie Mechling. It includes excerpts from the scores of Jurassic Park, E.T. the Extraterrestrial, Titanic, Indiana Jones, Forrest Gump, Chariots of Fire, Rocky, and Star Wars.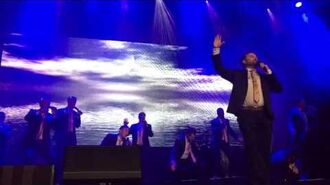 The medley is famous for Charlie's rather long and humorous introduction; although it has been shortened several times. On several occasions, the intro has been longer than the medley itself.
The medley originally included Home Alone (led by Mike Luginbill and Jerome Collins), but this was later removed and replaced with James Bond.

The updated medley including James Bond was first performed at the Chaser Summit in Las Vegas, September 26, 2013.

The Jurassic Park section of the medley was originally led by Ryan Ahlwardt, and the E.T. section by Walter Chase; until Ryan left the group in late 2012.
Community content is available under
CC-BY-SA
unless otherwise noted.